PowerBI app for social networks
Power of PowerBI tools for tracking multiple social networks performance.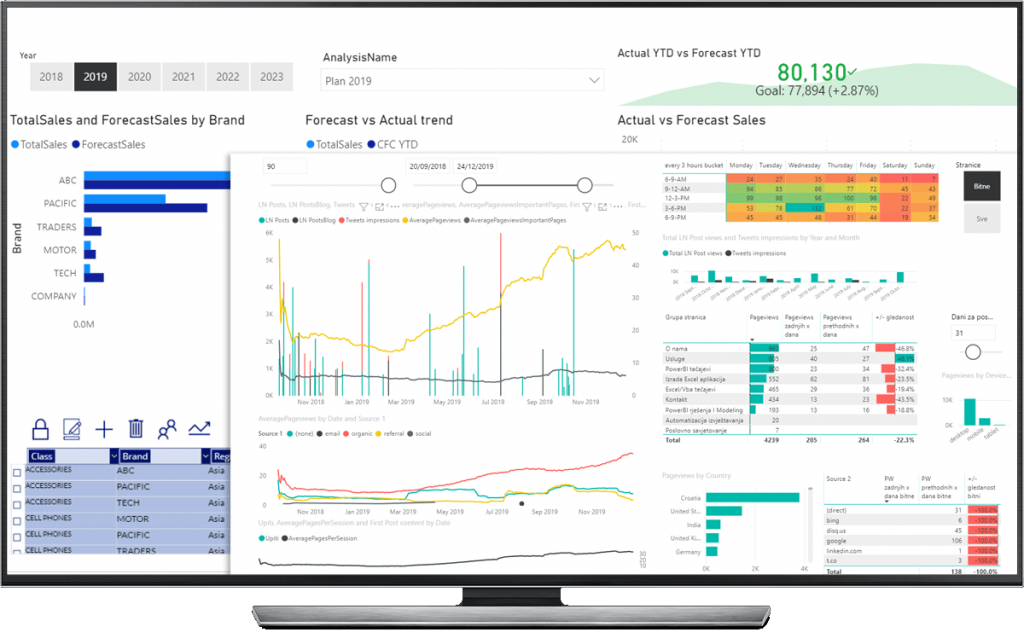 Track all your social networks in one place!
Facebook company page
LinkedIn company page
Twitter
Instagram
Google analytics and in-house data integration!
Connect social network data with Google analytics and In-House data to get the whole company picture in a single report.
Have complete company branding, marketing, and sales data in one place.
Evaluate each marketing strategy side by side!
We use modern Microsoft technologies to combine multiple external or internal sources.
Data resides in your companies Microsoft dataflows, ready to be consumed by your analytic teams.
We take the most important metrics from all the sources, leaving the noise out of the picture.
We help you track what matters to you!
We can provide custom support in report creation. We can also help or advise on how to use social data in conjunction with Google analytics and your in-house data (eq sales) to provide you with robust platforms for your company objectives evaluation.
Use our tool to shorten your decision time.
Our tool can help you significantly shorten the time needed to evaluate separate marketing activities. You can evaluate all of them through a single interface and compare them to your goals/actual sales.
Immediately identify winning strategies and end the losing ones.
Get your social networks app
Improve tracking of your social networks perfomance in one place!
Main features
Data from all sources are refreshed in regular intervals (each couple of hours or each day)
Has the ability to hold historical data in case Social network API does not provide one (like the number of followers on a certain day or Facebook story posts)
Combining comparable data from different sources into a single dashboard
Allowing detailed analytics of each Social network with their particularities
Combining Google analytics and In-House data with social networks data
Easy to use and navigate
Robust analytics with the most important metrics (YTD, MTD, moving averages, run rates, etc.)
Not sure you need a social networks app? Maybe our Q&A can help.
For more information, please contact us through the form
Our team will answer you in a timely manner.
Learn With Exceed Academy
Improve your skills in our Exceed Academy, tailored for both beginners and professional.