PowerBI Planning/Forecasting tool
PowerBI integrated Writeback Planner suitable for real-time forecasting, planning, and budgeting. Based on Microsoft technology.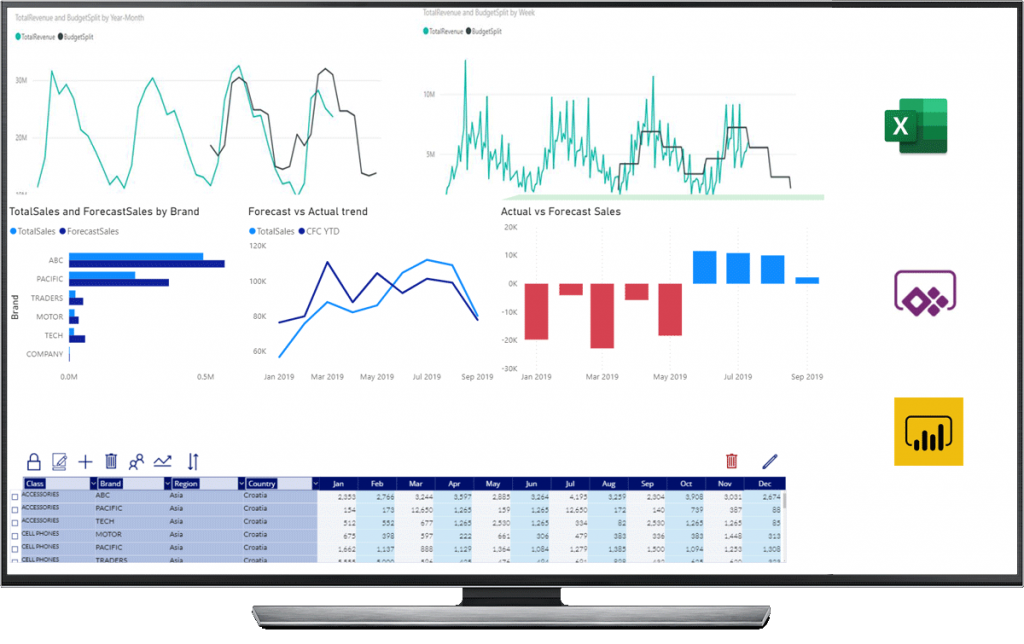 Writeback Planner for PowerBI is an application that enhances the powerful Microsoft PowerBI analytic tool with a write-back option, meaning users can enter and modify data from the data source directly in PowerBI, and analyze changes in real-time.
Editing data and inserting comments directly from within the PowerBI web service
All data changes happen via the app interface, i.e. the PowerBI web service. This can significantly improve your planning or forecasting process (or both) by making it simpler and faster. The app design is very intuitive and simple to use, so within only a couple of minutes, you can understand the app and take full advantage of all its features.
The application enables users to edit source data directly from PowerBI. You can create new plans, add, remove or modify data, add comments, and share reports with your colleagues and analyze them, all in one place. The changes you enter are instantly seen on your graphs and charts in the PowerBI web service.
Adding new rows and deleting rows in the existing plan
Real-time interaction with your data source makes Writeback Planner for PowerBI the ideal tool for creating plans, forecasts, or budgets.
It also lets you take full advantage of all the benefits of PowerBI (not only limiting it to data analysis).
Writeback Planner for PowerBI makes data management secure by using Row-level security. After the creation, the plan is only available to the creator of the plan. This can be easily changed by sharing that plan with the whole organization, a specific group of people (you can create a team in the app and share plans only inside the defined team), or a specific colleague.
By using application key advantages over standard planning tools, organizations can significantly improve cooperation and integration.
Increasing whole column and row values
Writeback Planner for PowerBI has many more features to offer and it can be further customized to provide end-users with a better overall user experience.
We particularly emphasize the possibility of adjusting analytics to your needs and requirements.
The main purpose of the application is to provide integration of analytics with a write-back functionality which is natively not supported by PowerBI. This enables users to create or adjust plans and efficiently analyze them in one place.
GET YOUR FORCASTING TOOL TODAY
Improve your reports and get dedicated BI tool that will suite your business.
Integrating planning process and analytics
Improves communication and collaboration
By using this tool, your business will improve, integrate with digitalized plan creation and analysis, and provide management with a great way to control and overlook the planning process.
Interested? Then check our videos with a detailed explanation of the whole application!
Advantages compared to other available products on the market
2. We can implement additional tailormade customizations to your app ,so that it perfectly fits your needs.
We provide you with a software license that grants you the right to install the system in your company cluster.
Technologies we use in development are Microsoft PowerApps, PowerAutomate, PowerBI, and Azure SQL database, just to give you a heads up about the potential upfront costs of Microsoft licensing.
We do not charge for monthly maintenance or monthly licensing. After you buy the software and we install it in your environment, the only monthly licensing is coming from Microsoft, which is as follows:
What we as Exceed charge is the following:
This application is ideal for all businesses with planning or forecasting needs that are using different tools for forecast and analytics. Often, management doesn't have direct control over the plan inputs, and this tool provides a great solution for that because you can control and analyze plans right after they are submitted and modify them if any part of the plan is incorrect.
This means that you eliminate sending e-mails back and forth to communicate with plan creators on what to do and how to do it. Moreover, the app can automatically create plans from actual data by using statistical methods. You can give inputs (plans or actual data from previous years), and the app will predict your plan for the next year.
If your business is already using PowerBI, then this tool is a great way to expand capabilities and add extra value to your reports.
For more information, please contact us through the form
Our team will answer you in a timely manner.
Learn With Exceed Academy
Improve your skills in our Exceed Academy, tailored for both beginners and professional.