Help and guidance during the implementation of Business Intelligence models based on Microsoft PowerBI platform.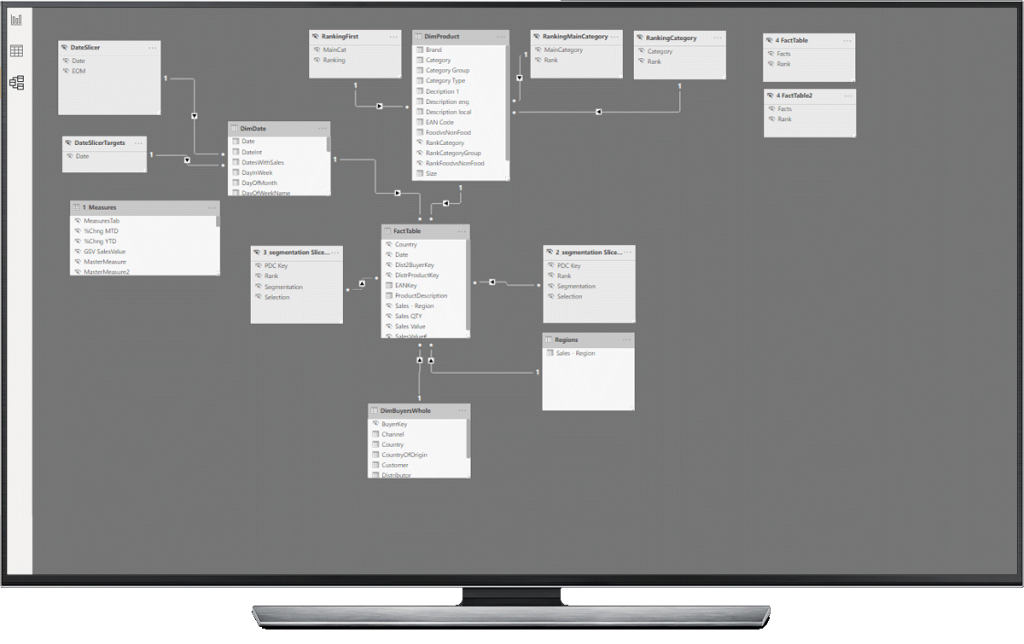 When creating a data model, it is possible to implement all data sources that are available to your company, like:
Company data (revenue, sales data, costs, supplies etc.),
Retail&Consumer research data,
Publicly available data (Country population census, amount of daily rainfall per different regions/cities…),
Web & social networks data.
Supply and demand projections.
…
While modeling, every available source is implemented into a meaningful correlation with other sources, creating a basic model which will allow you to analyze data from different perspectives.
Why is it important to set up a proper data model?
A well-established model can answer many questions about your business and allow you to quickly navigate within your data until you find information that will help you make a right decision.
By building a quality data model, you ensure the viability of the PowerBI system regardless of the data volume.
An optimally set data model is the basis for creating advanced dynamic reports and fast and accurate calculations within the model.
For more information, please contact us throught the form.
Our team will answer you in a timely manner.

WE HOLD
Microsoft certificate for being experts in BI reporting.

8+ YEARS
With modern Microsoft tools for data manipulation and analysis (PowerQuery, DAX).

4+ YEARS
of experience working with the PowerBI environment.
Learn With Exceed Academy
Improve your skills in our Exceed Academy, tailored for both beginners and professional.