Reports design development and guidance throughout the whole process of business intelligence implementation based on Microsoft PowerBI technology.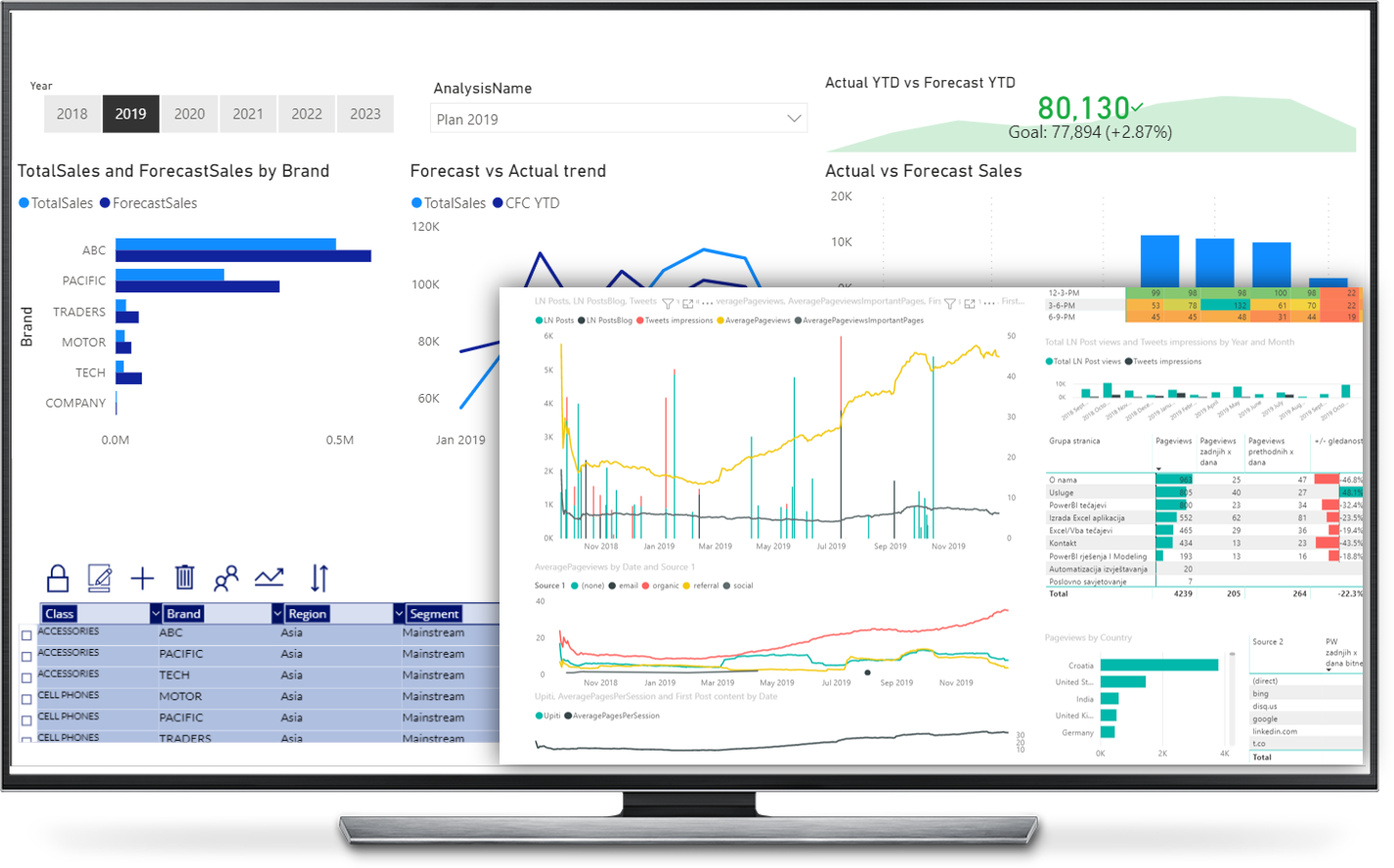 Implementation is based on the established data model in PowerBI or Excel (version 2013 onwards). The data model is based on all available sources important for our clients' business.
Connections to over 130 different sources, including:
Databases (SQL, Oracle, IBM, SAP…),
Online services (SharePoint, Exchange, Google Analytics, Facebook…),
Files (Excel, CSV, txt,..),
Azure, OData feeds,
…
Once the data model is set, it can be automatically refreshed in desired timeframes (hourly, weekly, monthly, etc.). There are also options for near real-time reporting and data streaming.
During the report creation, we work closely with developers and users of the reports so that we can create accurate reports for a wide range of company employees. Each created report is based on the principle "Less is more". This way we enable each individual user to find important insights through interactive report navigation.
We also provide instructions on how to use and modify available reports!
The goal of each of our solutions is to move the analysis from observations to insight which can be promptly used in making better business decisions.
Since the start of 2019, we also provide online support in PowerBI modeling and report creation. We are proud of our cooperation with several multinational companies in the field of PowerBI implementation.
For more information, please contact us throught the form.
Our team will answer you in a timely manner.

WE HOLD
Microsoft certificate for being experts in BI reporting.

8+ YEARS
With modern Microsoft tools for data manipulation and analysis (PowerQuery, DAX).

4+ YEARS
of experience working with the PowerBI environment.
Learn With Exceed Academy
Improve your skills in our Exceed Academy, tailored for both beginners and professional.