Excel applications development
Through the synergy between Excel and VBA, as well as using modern Excel technologies, we can design business solutions that will satisfy the current needs of your company in a very short time, all for an acceptable price.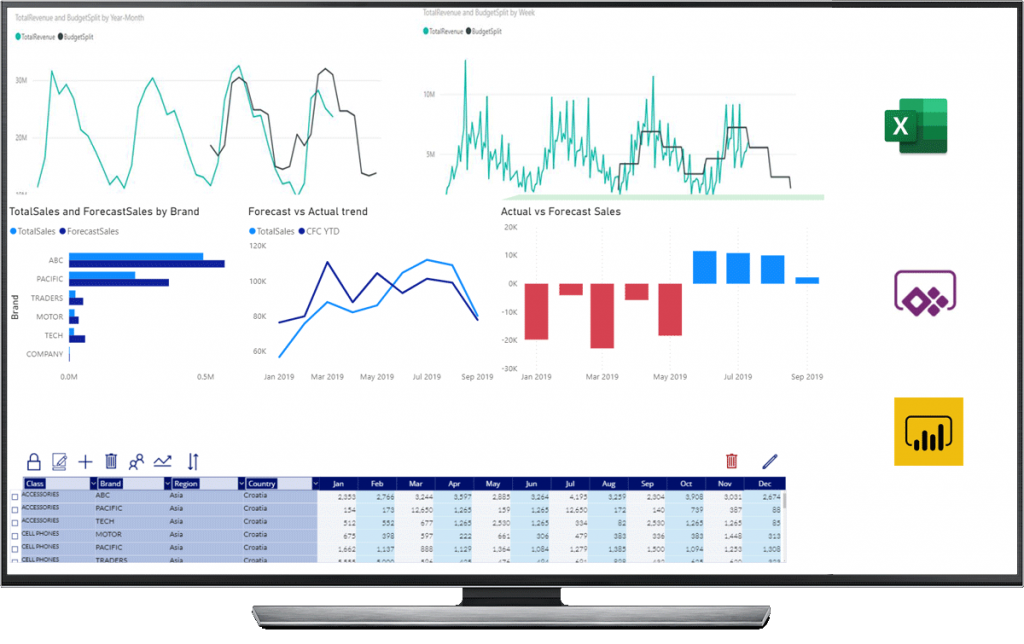 Examples of model creation:
Creation of Dashboard – Using several data sources (sales, stock, distribution…) in order to create interactive reports with key indicators.
Creation of complex models based on formulas.
Creation of a system for sending offers by email and saving them in the database. 
Automated email sending from Excel.
Connecting to external databases in order to process or analyze data (SQL, Oracle, Access, Web data).
Creation of automated cost estimates with in-depth analysis capabilities of stored data.
Automated downloading of data from the net and saving them in a database.
Automatic recognition of new worksheets within Excel, and their consolidation within the database on which in-depth data analyzes are performed.
Connecting several data sources and creation of parallel analyzes in PowerPivot.
Entering and sorting data by specific keys in other worksheets or other applications.
Examples of the applications we already developed:
Excel app for sorting expenses

Excel app for cost analysis data input control

Excel app for creating and sending purchase orders

Excel configurator
We also enable the implementation of modern Microsoft technologies in your Excel solutions, such as:
PowerAutomate (Flow) – process automation
PowerQuery – data processing automation
PowerPivot – modern data analytics
Excel is a universal tool that, with the knowledge of programming, provides unlimited possibilities of data processing, database creation, automation of business processes and the creation of various forms of data entry.
We provide continuous customer support to all users of Excel applications.
Thinking about implementing PowerApps?
Advantages of PowerApps technology over Excel applications:
How can modern Microsoft technology help you in your business:
Examples where PowerApps applications have proven to be a better alternative to creating Excel applications: 
Creating offers that are saved within an Excel file or SharePoint list and automatically sent via email;
Generating discounts to customers and sending personalized banners;
Application for submitting and monitoring the use of vacation leave;
Budgeting and planning (in collaboration with the PowerBI tool);
Assigning, processing, and tracking work orders.
For more information, please contact us through the form
Our team will answer you in a timely manner.
Learn With Exceed Academy
Improve your skills in our Exceed Academy, tailored for both beginners and professional.