Excel applications development
Through the synergy between Excel and VBA, as well as using modern Excel technologies, we can design business solutions that will satisfy the current needs of your company in a very short time, all for an acceptable price.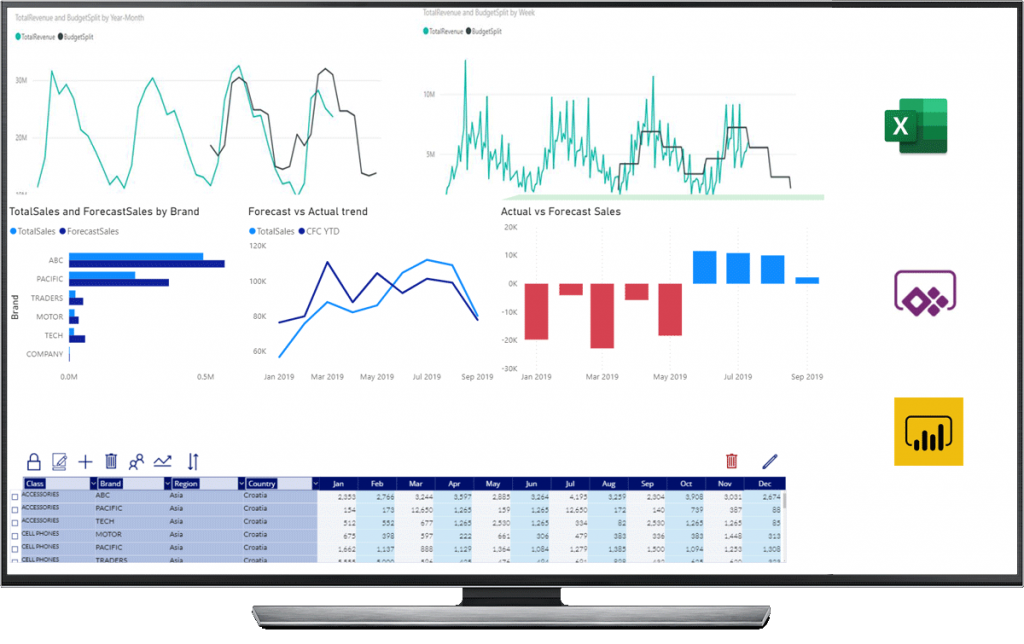 Excel is a universal tool that offers proficient programmers unlimited possibilities of data processing, database creation, business process automatization and various kinds of data input creation.
We also provide the implementation of modern Microsoft technologies in your Excel applications, such as:
PowerAutomate (Flow) – process automation
PowerQuery – data import automation
PowerPivot – modern data analysis
All users of Excel Applications will be getting continuous support from our team.
EXAMPLES
Dashboard design – using multiple data sources (sales, stock, distribution…) in order to create interactive reports with key indicators.
Creation of complex calculation models.
Creation of tools designed for sending offers and invoices through e-mail and storing sent data into the database.
Automated e-mailing from Excel.
Creation of complex formulas without programming.
Accessing external databases for data processing and analyses (SQL, Oracle, Access, Web data).
Automated cost estimate templates with incorporated back data analytics.
Consolidation of multiple sources and conducting side by side analysis using PowerPivot.
Excel app for sorting expenses

Excel app for cost analysis data input control

Excel app for creating and sending purchase orders

Excel configurator
For more information, please contact us throught the form.
Our team will answer you in a timely manner.

WE HOLD
Microsoft certificate for being experts in BI reporting.

8+ YEARS
With modern Microsoft tools for data manipulation and analysis (PowerQuery, DAX).

4+ YEARS
of experience working with the PowerBI environment.
Learn With Exceed Academy
Improve your skills in our Exceed Academy, tailored for both beginners and professional.